Page revised: September 2023
Duke of Edinburgh's Award Scheme
Brecon Beacons National Park
Listed Campsite
Black Mountains, Wales
Camping on Farms
Established in 1950s
Expeditions
Abergavenny, Gateway to Wales, M4 corridor drop off. Llanthony Priory,
valley, Court Farm, Treats, Capel-y-ffin, Cwmdu, Crickhowell. Pen y Fan. Waterfall Country. Backpacking.
Canoeing, horseriding and other outdoor activities are available nearby.
Mountain Leader courses can be held at Newcourt throughout the year. An Expedition Skills Module is also available.
Coronavirus has not gone away - it is not welcome at Newcourt Farm Campsite!
Take care.
Extra sinks, for Health & Safety are available in the Agricultural Shelter.
We also have a boot wash area.
£7 per person per night for DofE and Educational groups only.

Newcourt has a Duty of Care in Safeguarding Children, Health and Safety, Data Protection, Privacy and Equal Quality.
Suitable for all levels: Introduction, Practice, Bronze, Silver and Gold Awards.
The site is used by a diversity of groups for Outdoor Education. D of E Groups, Schools, RAF, Police, Army Cadets, Boys and Girls Brigades, Field Officers, Young Person Youth Work, Religious Groups, Explorer and Scout Camps, Girl Guides, Special Needs and Universities for biodiversity field studies. Ages range from minors, seniors to adult.
July 2023 The National Park installed new footpath gates around the farm to allow for Equal Quality.
There are ample routes from the campsite for a 4 day expedition to be based at Newcourt.
Plenty of camping space.
Toilets, showers and pot wash sinks.
Separate facilities for staff and leaders if required.
Under conditions of extreme foul weather, for health and safety reasons, we have a large farm shelter that can be used, at no charge, for preparation, cooking and eating (if expedition permits).
Fridge and freezer available for staff use.
Hook-up connection.
Large car park suitable for coaches.
5G connection can be obtained on the Campsite.
The following video was made prior to Coronavirus (COVID-19) restrictions.
Click
here
to enjoy this student's video showing how much fun a group, camping at Newcourt had on a Gold Practice Expedition.
Video
of Gold DofE Expedition on the Black Mountains.
A
video
created through the eyes of a teacher at Newcourt Expedition Campsite.
Follow
this circular route starting and ending at Newcourt.without using Highways.
Take a look at Jordan's
video
.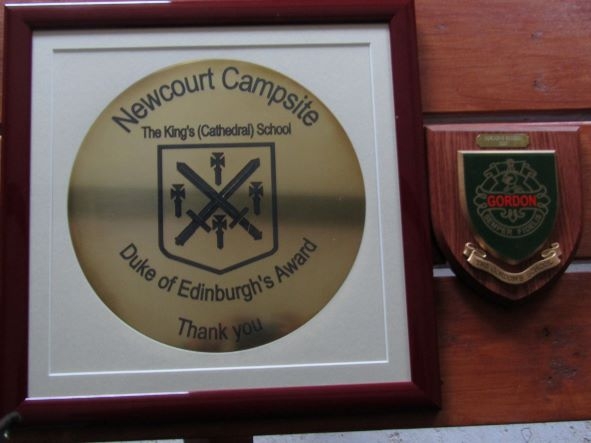 How to find us. Google Maps 2018
Located in the Black Mountains, Brecon Beacons National Park.
OS Explorer OL13 grid reference SO195368
Newcourt campsite is open to schools and groups weather permitting.
The Brecon Beacons National Park Authority has changed the position of a footpath. The footpath originally went through Newcourt Farm yard but has now been re-positioned across the field below the farm.
Unfortunately, not all OS maps are showing the change at this time.
The area is suitable for multiple expeditions from Bronze to Gold DofE as well as training, practice and qualifying ventures. Mountain, hill, field and forestry routes are available.
Direct Access from the campsite to four separate public footpaths, suitable in kilometres duration for Silver and Gold expeditions.

One footpath leads from the campsite across farm fields, by the forest, directly to the mountains without using highways.
Low routes suitable for Bronze expeditions or foul weather planning.
Higher routes provide challenging areas for Gold groups and access to a triangle of DofE campsites.

Read the Countryside Code Natural Resources Wales / The Countryside Code: advice for countryside visitors
The campsite has the capacity for several groups at any one time with space for supervisors to pitch away from the group. A separate toilet and shower are also available for supervisors if required.

We have a spacious open-fronted farm shelter that can be used for preparation, cooking and eating in cases of extreme foul weather conditions (if expedition permits).

Recycling is actively encouraged on site. We have a contract with Thomas Waste Management Ltd.
GTP Waste Ltd. CB/JE5844GM/A001
Herefordshire Fire Protection Services Ltd.
C.A. Meredith Ltd. Electrical Contractor
Teachers and leaders are responsible for the health, safety and supervision of children at all times.

We ask all campers on site to be respectful and keep noise to a minimum after 10pm and before 7am.
The Brecon Beacons is one of only 9 in the world to be awarded International Dark Sky Reserve status. Great for stargazing. You will be amazed at our night sky.
Mini buses and canoe trailers can be left at Newcourt, at no extra cost, during your expedition.
If traveling by large coach the most suitable access route is, A4078 Talgarth to Three Cocks, turning off at the junction for Felindre. You are advised to use a paper map from this junction as a sat nav is not always reliable. Please pass this information on to your coach company.

For campsite risk assessment click here "Risk Assessment".
For details of Public liability insurance please ask.
There is good mobile phone reception on the campsite making it ideal as a base camp.

Mobile phone signal is limited/non-existent in certain areas on the Black Mountains. We recommend that a check system is arranged with your groups to track whereabouts on a regular basis.
Reflective rucksack covers are ideal for locating your group on the hill with binoculars.

In the 1950s Mills Brothers established Newcourt Farm as a Riding Centre, leading pony treks into the Black Mountains and as a Camping Site for tents and caravans. We have a large area comprising of four seperate fields used for camping and grazing for sheep. (nb: livestock is removed 28 days prior to a field being used for camping). We cater for the development and well-being of children.

Are you ready for your expedition? Useful information can be found on this site Adventure Smart UK

Advance Mobile Location (AML) is worth considering when planning your Expedition.
Ordnance Survey has updated their free download OS Locate app. More information here.
Do you know who to call if there's a walking or climbing emergency? Check out this information.

eDofE Mapping is a free, optional expedition route mapping tool designed to create DofE route cards and route summaries. It can be used by participants and Leaders through eDofE. eDofE mapping is simple to use.
Digitally mapping your route is quick and easy: set your waypoints and checkpoints, then add descriptions and escape routes to generate your route card and a route summary.

This is a free route planning app. that may be useful:-
gbmapometer.com
viewranger.com is also useful but may require a subscription.

Location finder: What3Words
Click our What 3 Words address: ///steep.plodded.breakaway

The Highway Code rule H1, rule H2, rule H3
Link

Before setting out on your expedition check the weather forecast on these sites:-
Home Page (mwis.org.uk) Mountain Weather Information Service
Met Office Mountain Forecast
Apple phones have a free app. that provides essential planning tools for mountain walkers.
https://itunes.apple.com/gb/app/mountain-info-service/id441905856
For local weather check XC Weather

OS explorer OL13 grid reference SO195368
Printed in 1994 Newcourt Farm is shown on the map as a Campsite, Caravan Site and Horse Riding Centre.
OS Explorer is updated October each year.

Please note:
Children must be supervised at all times by person or persons in charge. Newcourt Farm is not responsible for any children left unaccompanied on site.
Any damages to site property must be paid for.
Lights to cooking barn will be switched off at 9.30pm.

PAYMENT: Contact details of Bursar or Financial Department and address, are required at the time of making a booking to allow for invoices to be sent* directly. Payments can also be made in cash, cheque (payable to Mills Bros), or by arrangement with group organiser. For BACS details please ask. Payments accepted in advance or at the time of visit.
It has been a pleasure to welcome Duke of Edinburgh groups camping at our site in Wales for many years. We look forward to your visit. Please contact us,
Phone: 01497 847285 or Email: info@newcourt-campsite.co.uk

Network Co-ordinator:
Tel: 01874 623086

Medical Assistance:
NHS: 111

A&E: Prince Charles Hospital,
Gurnos Road, Methyr Tydfil. CF47 9DT
Tel: 01685 721721

Minor Injuries: Nevill Hall Hospital,
Brecon Road, Abergavenny. NP7 7EG
Tel: 01873 732732

Chemist: Lloyds Pharmacy (Waitrose Store)
17, Merthyr Road, Llanfoist, Abergavenny. NP7 9LL
Tel: 01873 850702
Forming the Black Mountains triangle of DofE campsites are:-
Newcourt Farm, Felindre, Three Cocks, Brecon, Powys, LD3 0SS
Tel: 01497 847285

Llanthony Treats
Honddu Cottage
Llanthony, Abergavenny
Monmouthshire
NP7 7NN
Tel: 01873 890867

Court Farm, Llanthony, Abergavenny, Monmouthshire NP7 7NN
Tel:01873 890359

Cwmdu Caravan and Camp Site
Cwmdu
Crickhowell
Powys
NP8 1RU Tel. +44 (0) 1874730741
Do you need transport?
Williams Coaches,
Cambrian Way,
Brecon,
Powys.
LD3 7BE
Tel: 01874 622223

Prohibition - No unaurthorised persons allowed onsite.
Safeguarding Children.

Newcourt Farm and Campsite cannot be held liable for misinformation that may be given by any third party.
*Please note the following information with regard to any communications e.g. emails, social media, verbal etc. made with Mills Bros, Newcourt Farm, Felindre, Three Cocks, Brecon, Powys. LD3 0SS
This message contains confidential and potentially legally privileged information soley for its intended recipients and others may not distribute, copy or use it in any way.
Should you receive this message by mistake, we would be most grateful if you informed us that the message has been sent to you. In this case, we also ask that you delete this message from your mailbox, and do not forward it or any part of it to anyone else. Thank you for your co-operation and understanding.
Internet communications are not secure.
Mills Bros, Newcourt Farm will not be liable for direct, special, indirect damages arising from alterations of the contents of this message by a third party or as a result of any virus being passed on.
Criminals are targeting buisness's and their clients by intercepting and altering emails to divert money to them. We will not notify our bank details by emails.

Newcourt Farm – Welsh Government Sustainable Farming Scheme Brecon Beacons National Park.
Climate and nature emergencies alongside the sustainable production of food.
Land Management Reform
Universal Action NFU Cymru –
Staff and visitors, please have a level of learning on Health & Farm Safety.
Force Majeure - Newcourt Farm and Campsite are not liable.
Force Majeure - Contractual Liability, Newcourt Farm and Campsite.
Revised February 2023
Pictures provided by David Lucas